Corporate History
.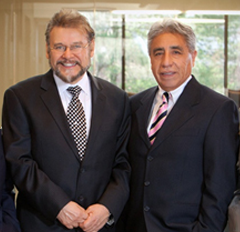 Afilon, founded by Charles E. Vela, was created to meet the federal governmentís need for the private sector to provide objective assessments of civilian and military problems or programs with a high level of organizational and technical complexity. Vela spent years assisting federal agencies solve complex challenges through his experience as a leader and technical staff member of prominent Federally Funded Research and Development Centers (FFRDCs) and non-profit organizations, including the Illinois Institute of Technology, the Mitre Corporation, Noblis (formerly Mitretek Systems) and the Institute of Medicine. The relationship dynamic of these organizations and the federal government, to work in the best interest of the government and the greater public, has been the underpinning of Velaís experience and is the orientation and guiding principle by which he leads Afilon.
Vela brought other well established leaders on board with the same alignment. At inception, the firmís initial team of scientists had experience working in like-minded organizations with impressive contributions within their respective areas of expertise. Dr. Margarita Studemeister, Mr. J. Walter Vera, Mr. Peter Kotara, Dr. Peter Nash and Dr. Fred Cecere each had over 25 years of experience in business transformation and technical modernization of mission-critical civilian, medical, intelligence and defense systems. The company, initially known as Expertech Solutions, began consulting services in 2003.
Due to demand in the federal marketplace for Afilonís services, five years later, in 2008, the organization began to transform from a small consulting firm to a strategy, systems engineering, and professional solutions company. The company chose to augment these services with research and development programs in response to the strategic, operational and business challenges facing several clients.
Today, Afilon brings unparalleled integrity and often serves as a system integrator, negotiating and marrying the business needs of the federal government with the services of other contracting firms. Due to Afilonís orientation, objectivity and experience, the partners are often called on by the highest levels of government to provide strategic consulting to help define the direction of federal agencies. These same leaders request Afilonís system integration and professional services to ensure that the strategies are properly carried out. In this manner, Afilon goes beyond the scope of most similarly minded FFRDCs and non-profit Think Tanks working for National Security and the public good, providing full life-cycle support for programs and initiatives.
In 2012, the company added precision to its mission and officially changed its name to Afilon. Rooted in Latin, ďAfilonĒ best captures who we are and our sharp approach to business: with swift clarity and excellence.