Contract Vehicles
.
Afilon contract vehicles readily available to bring services to bear for Federal Agencies and the State of Maryland. The contract vehicles span across various services and mission areas – including: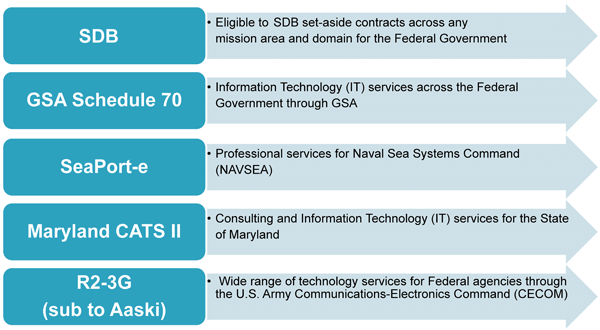 In addition, Afilon has relationships with other firms who can leverage their contract vehicles to bring Afilon's services to bear.
508 Compliance
IT services and related provided by Afilon, Inc. are in compliance with 508 of the Rehabilitation Act of 1973, as amended (29 U.S.C. 794d), FAR 39.2, and the Architectural and Transportation Barriers Compliance Board Electronic and Information Technology (EIT) Accessibility Standards (36 CFR 1194) General Services Administration (GSA), as required by our customers.
Information on compliance standards can be found at: www.section508.gov