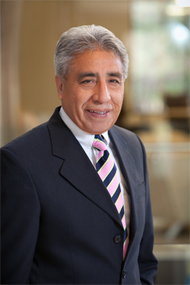 J. Walter Vera
Vice President and Chief Technology
Walter contributes and executes Afilon's strategic posture across the company's business development efforts and delivery teams.
J. Walter Vera has over 25 years of strategic consulting and technical implementation experience. Throughout his career, he has honed his expertise in strategic modernization of legacy systems of federal agencies to enhance service to the nation's citizens. He has deep experience in technology application, selection, integration, and implementation across federal enterprises to meet critical business needs. Vera has led technology labs to design and deploy information technology and communication systems from initiation to completion of the Software Development Lifecycle.
Walter is also an expert in Knowledge Management and has directed the development of systems that foster knowledge accumulation regarding scientific grant reviews and selections, detecting fraud in visa applications worldwide and conducting crime analyses. He couples his technical knowledge with governance best practices and organizational dynamics to lead pragmatic, effective, and successful modernization and KM efforts at government agencies.
He has consulted to numerous organizations on modernizing legacy systems, including the Internal Revenue Service, U.S. Postal Service, General Service Administration, Department of the Interior, Bureau of Land Management, U.S. Department of Agriculture, Veterans Administration, and U. S. Patent and Trademark Office.
Walter's approach to developing strategic frameworks for technical innovation and advancement, his creative and pragmatic problem solving abilities, and his ease at working with others renders him a valuable to mission critical modernization efforts.
Notable Accomplishments
Vera's leadership at Noblis (formally Mitretek), led to organization-wide enhancements at USPS in business process improvement, e-government internet solutions, and technology assessments efforts. Vera managed several technical teams to migrate USPS legacy systems to a networked web oriented environment. Under his leadership, his teams delivered the Postal Service Enterprise Architecture framework and guidance, reviewed and recommended e-commerce and web development standards for use by USPS; developed postal e-commerce strategies and develop prototype scenarios with leading market vendors; and evaluated and performed hands-on testing of commercial-of-the-shelf software products to determine their compatibility integration within the computing environment. He also managed technology selection, integration, and implementation projects and programs to ensure alignment with the EA framework at the USPS.
In addition, Vera was also responsible for Noblis' Knowledge Management (KM) practice for federal agencies and also made significant contributions to R&D in security. Vera directed the development of KM systems at the National Institutes of Health to maintain knowledge of the grant reviews and selections, the National Institute of Justice to support investigations of crime analysis, and at the Department of State to determine fraudulent actions in visa applications submitted to consulates worldwide.
Vera's contributions to R&D are extremely notable in security: He developed an X-ray data pattern recognition system to detect explosives in airport baggage for the Federal Aviation Administration. Vera has also supported prominent government acquisitions and GSA source selections. He participated in the GSA Source Selection Evaluation Board in the acquisition process for the development, operations and maintenance of the Federal Business Opportunities system, also referred to as FedBizOpps.gov or FBO.
Prior to his experience at Noblis, Vera served as technical staff at the MITRE Corporation, where he designed a number of advanced information processing systems for federal agencies, including an electronic applications filing system for the U.S. Patent and Trademark Office and an expert compensation and pension system prototype for the Department of Veterans Affairs. Moreover, Vera also designed and implemented major claims processing rule-based systems for the Social Security Disability Program, the Veterans Administration Pension Benefit Program and the Department of Labor Coal Mine Workers Compensation Program.
Vera's cutting edge technical contributions span across many agencies, at various levels, and in different contexts to solve significant national challenges.
Awards and Honors
Directors Distinguished Accomplished Award for consistently high quality support to United States Postal Service Information Technology Projects, 2001
Recognition award by the "Spanish Engineer Magazine" as one of the Spanish Engineer of the year 2001 in United States
MITRE Program Achievement Award for Strategic Support to the U. S. Postal Service, June 1995
Education
George Mason University, B.S. in Information Systems
University of Lima, Peru, B.S. in Applied Mathematics Physics